What are two Alentejanos doing in Serra da Estrela?
[ Alentejo is a Portuguese region located in the center-south of the country. On the west side we have its wild beaches and charming villages, and on the east side we have immense golden plains that take our gaze to infinity. "Alentejano" is the name given to its people. ]
This title reminds me of the beginning of a joke, however, I'm going to tell you an admirable story of a nice and daring couple who decided to leave everything to start over, in Serra da Estrela.
The two were born and raised in the town of Moura. A charming town, which despite being located in the Alentejo plain, has enough slope that riding a bicycle is not a "piece of cake".
Both studied at the University of Évora. They stayed there, bought a house; Júlia was an auditor and Nuno became a bank manager. You could say that they had that little life that, in theory, everyone wants; you know: couple, house, good jobs…
Who are these Alentejanos with mountain soul?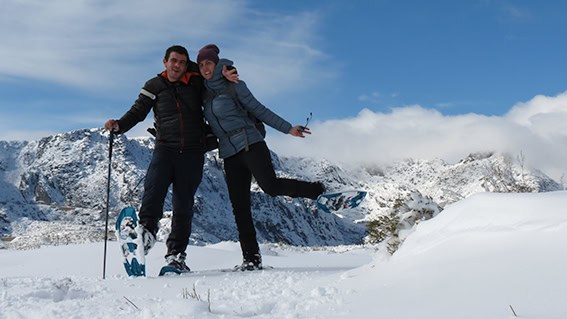 Júlia, 37 years old, civil engineer. I have known Júlia since she was born. She is seven years younger than me, but from an early age she was a very sensible little girl. She is a committed and, therefore, trustworthy person; somewhat shy at first, funny person when she feels at ease. She appreciates honesty, empathy and attention, things that she herself offers whenever she finds the same on the other side. Our grandmother gives Julia as an example the verse from Matthew that says: "when you give alms, do not let your left hand know what your right hand is doing". This is how I also see "my little one": a treasure who doesn't like to shine in public.
Nuno, 42 years old, mathematician. I met Nuno when he was 18. He got his degree "with his eyes closed"; I have always admired his intelligence and the modesty that accompanies it, never making a fuss about such a gift. But the best thing about Nuno is not his intellect. He is an attentive and empathetic person, a lover of freedom. He prefers good humor to being right, always takes into account the other person's opinion and a natural way to put people at ease. He also has a vast general culture. All this and more, makes him a very amiable and versatile host. I bet what I have that they will always be well received in his home.
If I admire them separately, I have much more to say about them as a couple. They have been for 22 years and 10 years working together. All I will say is that, being a couples therapist myself, and having so much theory at my disposal, they are the ones I turn to when I need loving advice. Besides sharing with me their "tricks" for maintaining love and harmony, what I see from my position (which is quite close to them) is that they look in the same direction, support each other, and pull for each other. They are the living example of what I have studied.
They also share hobbies, like photography, which they both love. All the photos on this page are by them.
What makes a civil engineer and a mathematician create an electric bike rental company in Serra da Estrela?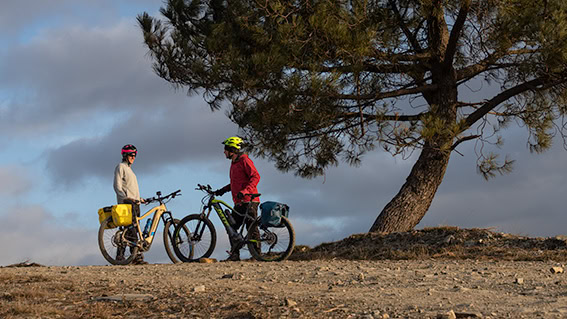 Such harmony and predisposition to enjoy life, they couldn't stay boxed in between buildings, banks, 8 hours of stress-filled work with nothing but material gratifications…
Whenever they could, even if it was a tight squeeze, they took their camping gear and went off to explore new landscapes. I know, because I often went with them, that those escapades were what made their lives more bearable. In the summer of 2015 they went to the Serra da Estrela for the first time on vacation. They fell in love with the trails, the peaks, the landscapes, the food… From then on, they went back whenever they could. "It's always different!" they said. And it's true, every season makes the Serra da Estrela a different landscape.
At first it was just a matter of escaping routine, discovering new and beautiful trails on which to photograph spectacular landscapes. Bit by bit, but quite quickly in fact, the desire to make a life in those mountains was born in them and they took advantage of the trails to see possible houses to buy.
This is how this couple from the Alentejo dropped everything to start over, in a new land, with new horizons. And, of course, they couldn't choose anything else to work for but to enjoy all that beauty and to do that which is now so often heard but so difficult to achieve: live where you want to live, and that your work is what you would do even if you weren't being paid. I bet Julia and Nuno know these lands much better than some of their countrymen. If walking through the trails they already know a lot, imagine with an electric bike.
A story full of illusions, uncertainties, fears and courage. They finally made their dream come true and live an enviable life for those who like nature.
This couple from Alentejo, exchanged the plains for the mountain and live in the heart of the Serra da Estrela, in the middle of the Manteigas Valley, where they share their day to day life with their shepherd neighbors. Besides cycling through the most beautiful trails of these mountains and woods, the couple enjoys a good cheese from the Serra with red wine, they dig potatoes and tend the vegetable garden, plant trees on the farm and have fun with the cats, dogs, sheep, goats, chickens and pigs that live in the valley.
Why was Estrela ebike born?
The Serra da Estrela has much to see and much more to feel. And this is the passion that motivates them and that they want to transmit. The purpose of Estrela ebike is to share moments of beauty and connection with nature, offering unique and memorable experiences, spreading the emotion that brought them and keeps them in these lands of beautiful landscapes, good food and welcoming and generous people.
Come ride with them!
Check here the activities that the Estrela ebike has for you!